LAST NIGHT
was fun, I have a ton of photos to share with you guys from an amazing
Pink Fashion Grand Launch
. It's going to take me a bit to get them ready to post here but I'll be sharing them with you guys ASAP.
On the other hand, I received a BIO (By Invitation Only) event from Pinoy_Blogfest 3.0 an annual event staged by Gadgets Magazine. If you're one of the guest also, see you there.
To all Bench Lifestyle Cardholder:
Be there as
Cotton On opens in SM Megamall
tomorrow, September 22, 2012 (Saturday).
Exciting promos await, such as:
COTTON ON P500 DISCOUNT COUPON
COTTON ON ITEM GIVEAWAY
DISCOUNT AT COTTON ON FOR BENCH LIFESTYLE CARD HOLDERS
DISCOUNT AT COTTON ON FOR BENCH MASTERCARD HOLDERS
Cotton On
has prepared all these especially for you, so see you there!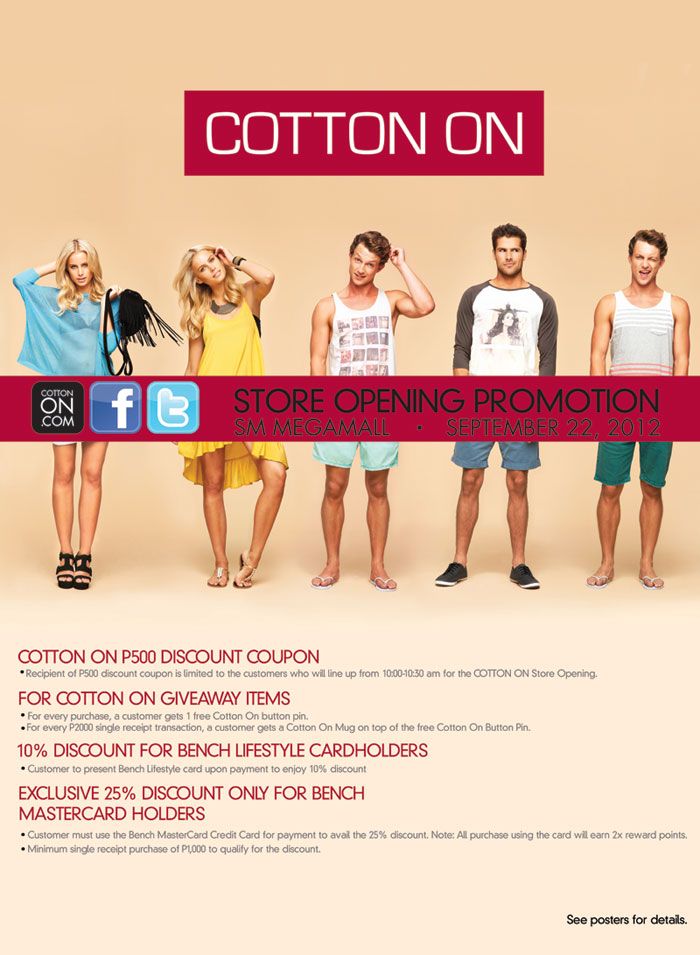 Candy magazine
will be holding the
Candy Fair 2012
where the Candy Cuties for this year will be "on display." The
Candy Fair 2012
will be held at the Megatent Events Venue in Libis, Quezon City on September 22, 2012 from 10 AM to 5 PM.
This year features a whole new batch of attention-grabbing Candy cuties, exciting celebrity performances, fun activity booths, and photo booths for you and your friends. Come in your most eye-catching neon outfit, and party the day away with your fellow avid Candy readers.